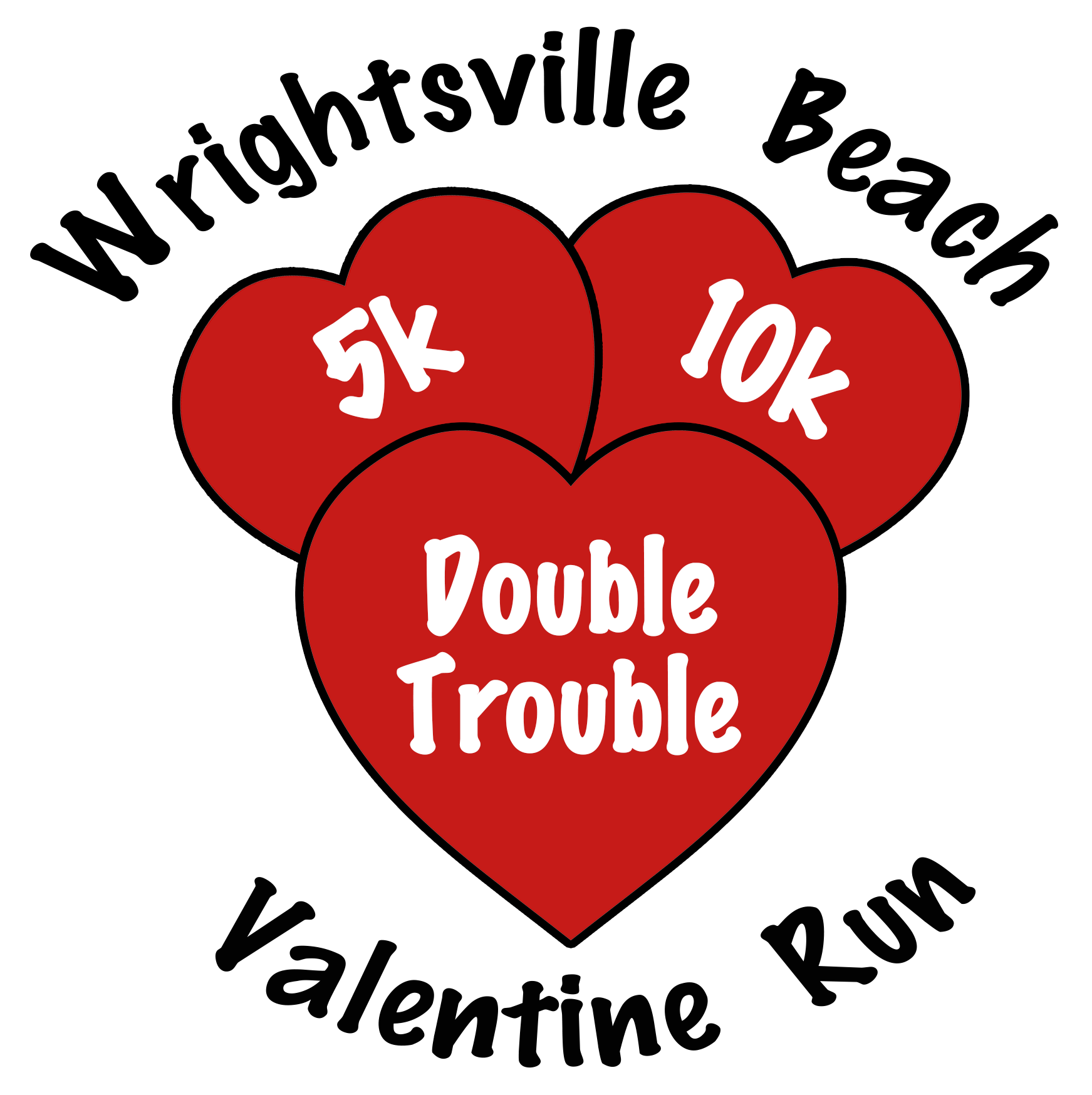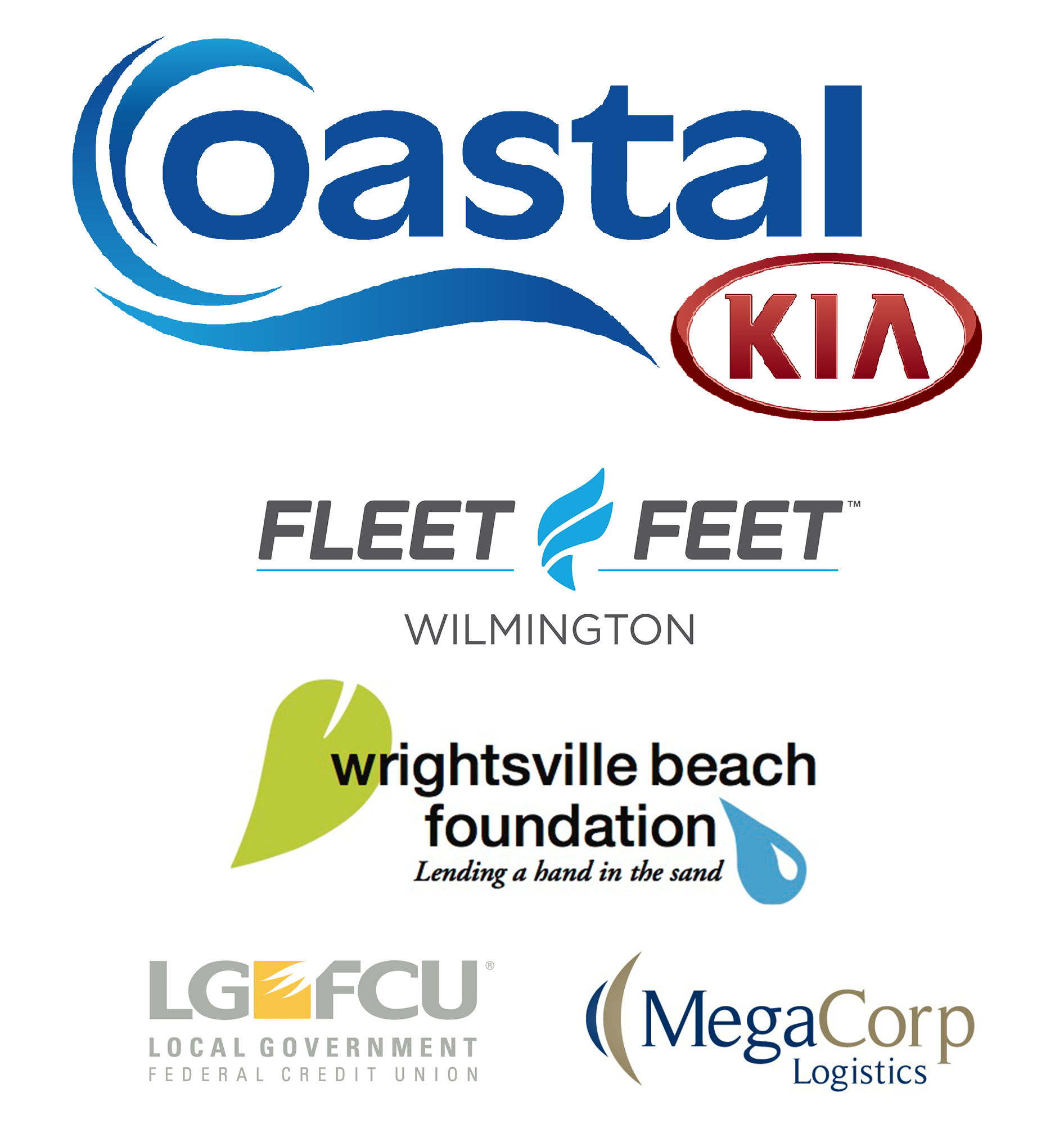 When & Where
Saturday, February 13, 2021
Wrightsville Beach Park
321 Causeway Drive
Wrightsville Beach, NC 28480
Distances
5K  –  TIMED
10K  –  TIMED
15K (Both Races)  –  TIMED
Start Times
8:00 AM  –  5K Wave 1
9:15 AM  –  10K Wave 1
Click HERE for your Wave Start Time
**Please note, we may have had to make a slight adjustment to your selected start time.**
2021 Valentine Run Results
IN PERSON RACE – SOCIAL DISTANCE PROTOCOLS
GETTING TO THE START LINE:
It is important that participants follow the rules below so we can continue to hold races during the pandemic.
– The start of the 5K and 10K will be in waves.
– Participants may arrive 10 minutes before to their start time.
– When warming up, please DO NOT warm up near the Start Line.
– Please avoid arriving early to the Start Line as we must stay within mass gathering limits.
– Remember to practice social distancing at the start line.
– Masks are required at the Start Line, when not running, and when unable to remain 6 feet away from other runners.
– When you arrive to the race, file in the back of the Start Line line.  The start will begin in a single file line.  When you (or your group) reach the Start Line, you start your race!
WAVE START TIMES:
Find your Start Time HERE
Please note, we had to make slight modifications to some requested start times.
PARKING:
Parking will be available on a first come, first serve at these locations: Wrightsville Beach Park, and designated spots along Causeway Drive.
RACE DETAILS:
For participants running the race in person, here is our social distancing and sanitization plan.
Spectators

Spectators will not be allowed at the Start and Finish Lines this year.

Start Line

There will be separate Start and Finish Line.  

The Start Line is located in front of Wrightsville Beach Town Hall.

Participants are asked to start 6 feet apart in a single file line.

Participants are asked to not arrive until 10 minutes prior to their Start Time.

Participants must wear a mask while waiting to start their race, per the NC Governor's Executive Order. Masks can be removed once you pass the Start Line and stay within 6 feet of other runners.

Participant temperatures will be checked at the start line.

Finish Line

The Finish Line is located in the field near the playground in front of Wrightsville Beach Town Hall.  Participants are asked to exit the finish line immediately following their race.

Spectators are not permitted at the Finish Line to stay within mass gathering numbers.

Water bottles will be available at the finish line for runners to grab on their own.

 

Water Stop

Small water bottles will be available at water stops for runners to grab on their own.

Face Coverings

Per the NC Governor's Executive Order, participants are required to wear face masks before and after their race.  You may take off your mask once you pass under the Start Line, and remain 6 feet away from other runners.

Cleaning & Hygiene 

Staff will perform routine cleaning of any frequently touched areas.

Hand sanitizer will be readily available at the Finish Line.

Monitoring for Symptoms

Participants are being reminded if they display any of the COVID-19 symptoms, or have been in contact with someone who has tested positive with COVID-19 in the last 14 days, to remain home.

Protecting the Vulnerable Populations

We are asking all participants who fall into the vulnerable population class to stay home and run the event virtually.

Awards

Unfortunately, we cannot hold an awards ceremony this year.  Awards are available for pick up at the Wrightsville Beach Parks & Recreation Office, Monday-Friday, 8am-5pm.

You are going to be in LOVE with this race!
Treat yourself this Valentine's season to a heart-themed race with spectacular views of Wrightsville Beach. Distances include a 5K or 10K, or make your heart beat a little faster and run both the 5K AND 10K in the Double Trouble event. This is a great race for beginners with a flat and fast course. The Double Trouble event is the perfect race for people training for a full or half marathon.
Get into the spirit by wearing your red, white, and pink and bring your Valentine to Wrightsville Beach!
About the Cause
Proceeds from the Valentine Run benefit the Wrightsville Beach Parks & Recreation Department, which supports various programs, activities, and events offered to the community throughout the year!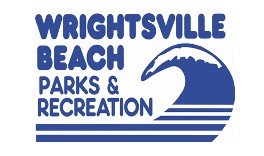 5K & 10K Awards
• Top 3 Overall, Male & Female
• Top 3 in Age Groups, Male & Female:
15 & Under, 16-19, 20-29, 30-39, 40-49, 50-59, 60-69, & 70+
Double Trouble Awards (Run the 5K & 10K)
• Top 3 Overall, Male & Female
Valentine's Themed Costume Awards
• Best Couple
• Best Female
• Best Male
Awards are available for pickup at
Wrightsville Beach Parks and Recreation Office
Monday-Friday, 8am-5pm.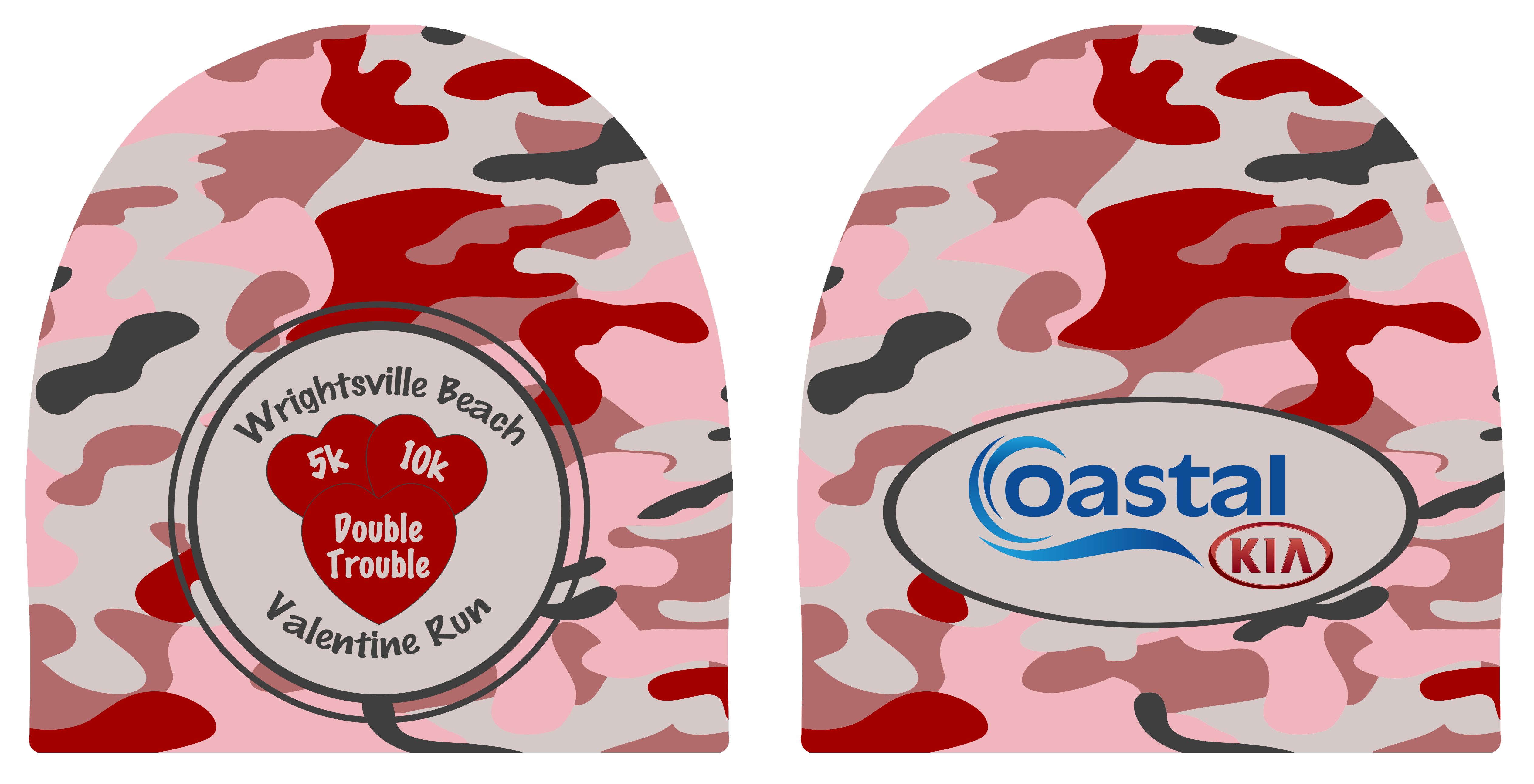 Race Swag
Beanies will be guaranteed to race participants who register by 11:59 PM on Friday, January 8, 2021. Perfect to wear during the race! Any extra beanies will be available to those who were not guaranteed one on a first come, first serve basis at the conclusion of the race.
Be sure to claim your Beanie today by registering!

At packet pickup, each participant also gets to choose a bib that best displays their relationship status. Are you single?  Then let everyone know you're AVAILABLE with a bright green bib proudly pinned to your back. Already in a relationship? You'll select the red UNAVAILABLE bib. Not really certain where things stand? Then the blue bib is for you – IT'S COMPLICATED!

The 5K race utilizes the popular Wrightsville Beach Loop, N Channel & Coral Drive. The 10K heads east on Salisbury St. to the most eastern Pelican Dr. cross-over, where athletes run west on Pelican Dr toward the drawbridge. The 10K route then continues underneath the drawbridge, east on Old Causeway Drive to Causeway Drive and then to Waynick Blvd. Runners will then travel south on Waynick Blvd. until they reach the halfway turn around at Taylor Street just south of the Blockade Runner Resort, and reverse the route back to the park while enjoying the beautiful waterway views along the way.
This race course is also stroller friendly! However, dogs are not allowed on this course so please leave them at home or with a non-running spectator.
Friday, February 12, 2021
PRE-RACE PACKET PICKUP
Fleet Feet Wilmington
1125 Military Cutoff Road
Wilmington, NC 28405
4 PM – 6 PM
To reduce mass gathering at the race, we ask participants to pick up their packets at pre-race packet pickup. If you cannot make it, packets can be picked up 15 minutes before your wave start time.
Saturday, February 13, 2021
RACE DAY
Wrightsville Beach Park
321 Causeway Dr.
Wrightsville Beach, NC 28480
8:00 AM  –  5K Wave 1
9:15 AM  –  10K Wave 1
Click HERE for your Wave Start Time
**Please note, we may have had to make a slight adjustment to your selected start time.**
Race Day Parking
Participants may park in Wrightsville Beach Park and on the municipal grounds as well as designated parking spaces along Old Causeway Drive.
Want to Sponsor or Volunteer?
Questions About the Event?
5K Race
Through January 14  —  $30
January 15 through February 13  —  $35
10K Race
Through January 14  —  $40
January 15 through February 13  —  $45

Double Trouble (5K & 10K)
Through January 14  —  $55
January 15 through February 13  —  $60
FAQ & GUIDELINES
Waiver: The Registration Agreement & Liability Waiver is linked to the Online Registration. This must be selected and approved during registration.
Packet Pick-Up: Family or Friends may pick-up your Race Packet at Packet Pick-Up.
On-Site Registration: Registration is available starting one hour prior to race start. It closes 20 minutes prior to start.
Timing: Jaguar Bib Chip Timing will be used to time this race
Weather: This race is rain or shine. It will be postponed, rescheduled or cancelled if a severe weather warning is in effect.
Refunds: There are no refunds, registration will be accepted as a donation.
Entries are not transferable to other races Timed by Go Time as each race is organized by a different group.
We must stick to this policy as race items have been purchased based on current registrations and it is not fair to choose who receives a refund and who does not.