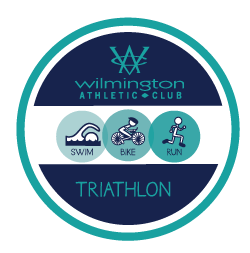 Registration Closed for 2014Email QuestionsVolunteer
DATE:
Saturday, June 21, 2014
TIME:
Individual Starts begin at 8am – 9:30am
Start Times will be assigned by fastest swim pace. They will be posted online and emailed prior to event.
LOCATION:
Wilmington Athletic Club (WAC)
2026 S. 16th Street
Wilmington, NC 28401
DISTANCES:
300 Meter Swim
11.5 Mile Bike
5K Run
DESCRIPTION:
Swim: The WAC Triathlon begins with a 300 meter pool swim in the WAC Outdoor Salt Water Pool. Participants make their way across the pool going up one lane and coming back the next. All participants are required to submit a 100 meter swim time to be used for start times. Please give the most accurate swim pace time to avoid other swimmers passing you or yourself being forced to pass other swimmers.
Bike: The 11.5 mile bike course is a two-loop course around Greenfield Lake. The course is described as tight and technical.
5K Run: The 5K run is flat and fast on roads, paved jogging trails and sidewalks around Greenfield Lake.
DIVISIONS:
Open Male
Open Female
Open Masters Male
Open Masters Female
Age Groups: Male & Female
Athena
Clydesdale
Masters Athena
Masters Clydesdale
Novice Male
Novice Female
Relay – 3 people
RACE FEES:
Early Bird Registration: $65
April 1 – May 31: $75
June 1 – June 21: $85
Relay:
Early Bird Registration: $95
April 1 – May 31: $105
June 1 – June 21: $115
*Only one person needs to register for the Relay.  The registration form will ask the names of the other two participants.  Teams can be mixed genders.
RACE SHIRTS:
Shirts sizes include Men & Women Adult Small, Medium, Large, XL
AWARDS:
Top 3 in each Division: Open Male, Open Female, Open Masters Male, Open Masters Female, Male/Female Age Group, Athena, Clydesdale, Masters Athena, Masters Clydesdale, Novice Male, Novice Female.
Top in Age Groups: Male and Female
15 & Under, 16 – 20, 21-24, 25-29, 30-34, 35-39, 40-44, 45-49, 50-54, 55-59, 60-64, 65+
Top Relay Team
PARKING:
Parking is available at the businesses across Hospital Plaza Drive from the WAC.
PACKET PICK-UP:
Friday, June 20, 2014
4pm – 7pm
Wilmington Athletic Club (WAC)
2026 S. 16th Street
Wilmington, NC 28401
Join the WAC Triathlon Club and Train for the WAC Tri
The WAC is celebrating its WAC Triathlon Club launch by offering the first month FREE to members & non members! This is a novice designed sprint triathlon group training club. Checkout details, enrollment form, schedule, and events HERE.
FAQ & GUIDELINES
Waiver: The Registration Agreement & Liability Waiver is linked to the Online Registration. This must be selected and approved during registration.
Packet Pick-Up: Family or Friends may pick-up your Race Packet at Packet Pick-Up if the event is not sold out. For sold out races, individuals must pick-up their packet and show I.D.
On-Site Registration: Registration is available starting one hour prior to race start. It closes 20 minutes prior to start.
Timing: Jaguar Chip Timing will be used to time this race.
Weather: This race is rain or shine. It will be postponed, rescheduled or cancelled if a severe weather warning is in effect.
Refunds: Refunds requested by participant are as follows:
More than 60 days from event: Full Refund
Less than 60 days, but more than 30 days from event: 50% Refund
Less than 30 days, but more than two weeks from event: 25% Refund
Less than two weeks from event: No Refund
Event cancelled due to severe weather: No Refund
Entries are not transferable to other races Timed by Go Time as each race is organized by a different group. We must stick to this policy as race items have been purchased based on current registrations and it is not fair to choose who receives a refund and who does not.