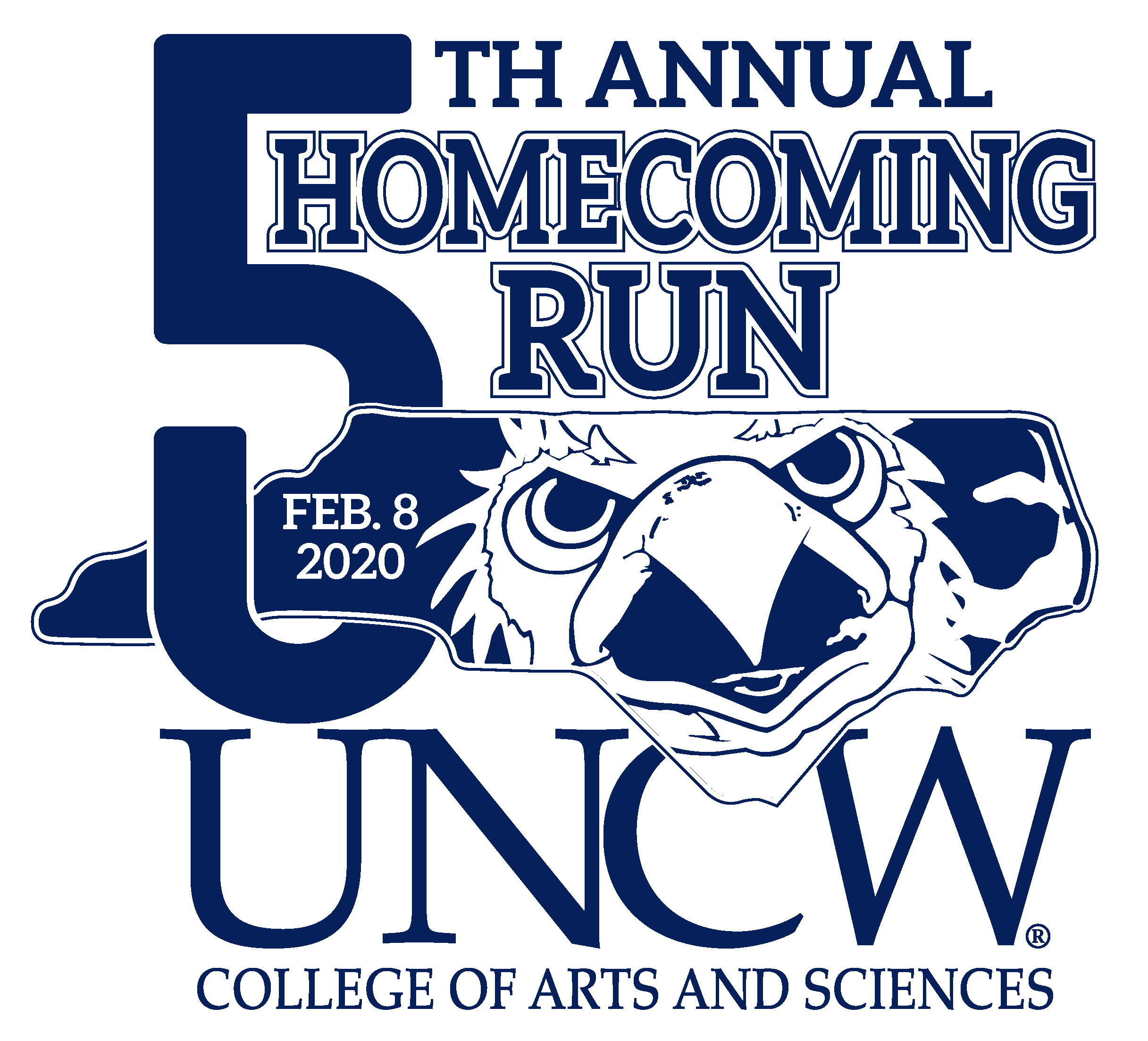 When & Where
Saturday, February 8, 2020
UNCW (Near Tennis Courts)
601 S College Rd.
Wilmington, NC 28403
Distances
5K  –  TIMED
Fun Run  –  UNTIMED
Start Times
8:00 AM  –  Fun Run Start
8:30 AM  –  5K Start
2020 UNCW CAS Homecoming Photos
2020 UNCW CAS Homecoming Results

The UNCW College of Arts & Sciences Homecoming Run is the College of Arts and Sciences' signature Homecoming event. All alum, students, faculty, staff, supporters and friends are invited to come to campus, have fun, see old friends, and support applied learning efforts that help students prepare for life and career beyond UNCW.
Help celebrate the 5th Annual Homecoming race by dressing up in a fun costume! Don't forget to wear UNCW colors to show your UNCW/College of Arts & Sciences pride. Students, faculty, alumni and staff are also encouraged to join with friends and colleagues to run in teams. 5K awards will be given to the fastest team as well as the team and pet with the most UNCW spirit!
About the Cause
Preparing students to be successful in the world of tomorrow and to be life-long learners committed to connecting with and giving back to their communities is the mission of the College of Arts and Sciences. The CAS is UNCW's largest academic unit and is comprised of departments representing the arts, the humanities, the mathematical and natural sciences, and the social and behavioral sciences.

Applied learning is a hallmark of the student experience in the College of Arts and Sciences. Each of the College's departments requires an applied learning experience as a part of the curriculum for its undergraduate majors. Examples include faculty-directed research, internships, service learning, and capstone courses/projects, all of which challenge students to integrate various strands of knowledge and to apply that knowledge to broader real-world situations. Through applied learning, students in the college gain direct hands-on experience with the skills relevant to their major as an essential part of their preparation for life and career. Proceeds from the race will go to supporting these types of experiences.

5K Awards
• Top 3 Overall, Male & Female
• Top 3 in Age Groups, Male & Female:
9 & Under, 10-14, 15-19, 20-29, 30-39, 40-49, 50-59, & 60+
Team Awards
• Most UNCW or CAS Spirit
• Fastest Team
Pet Award
• Most UNCW or CAS Spirit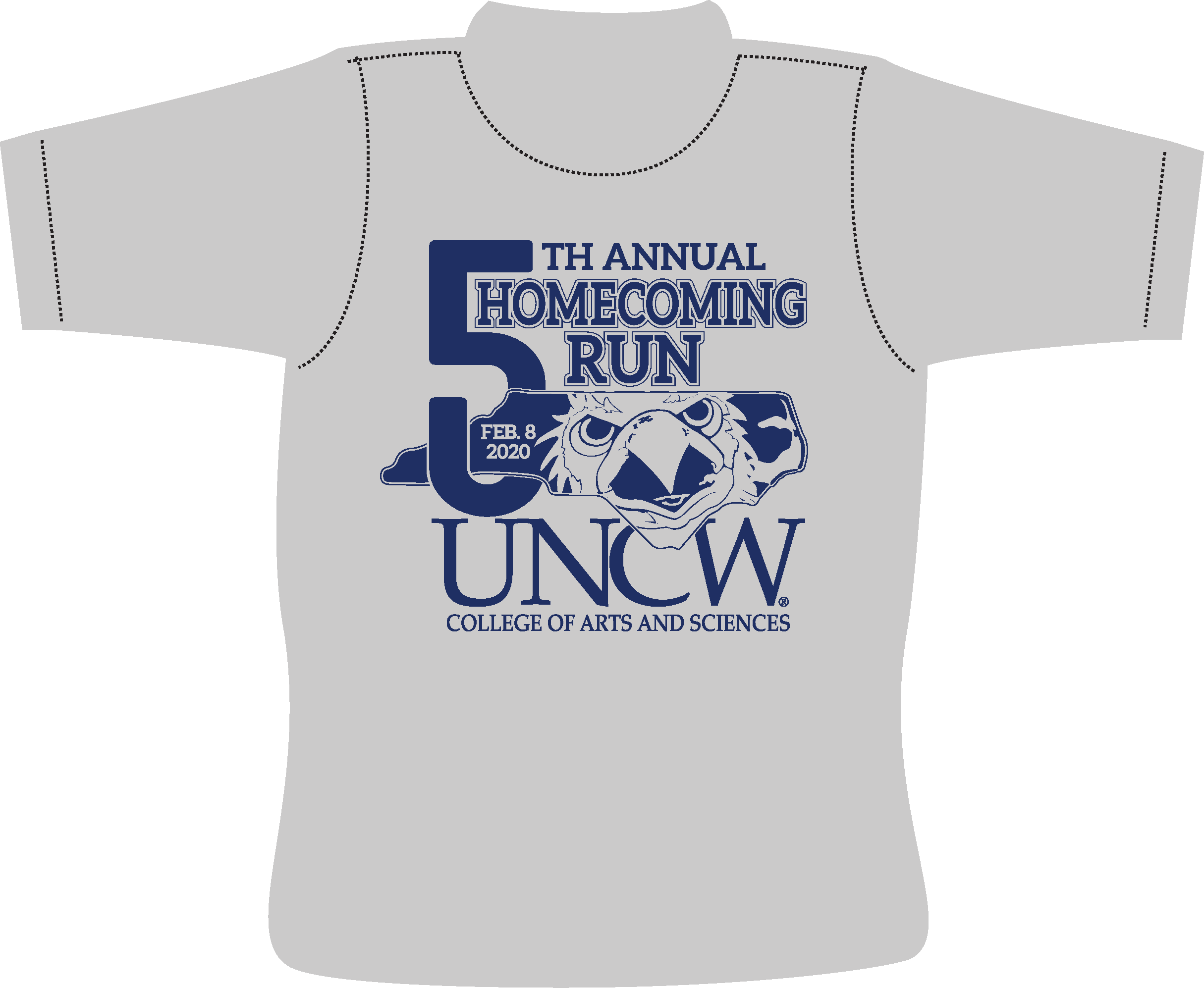 Race Swag
 Race Shirts will be guaranteed to participants who register by 11:59 PM on Sunday, January 26, 2020 . The shirts are available in Youth S-M and Adult Unisex S-XXL cut sizes, and are made of Cotton.
 Be sure to claim your shirt today by registering!

The course is a fast and flat route around the perimeter of UNCW. It passes through both new and historical areas of UNCW, and provides a great opportunity to see how much the university has grown in recent years.
This race course is also stroller, wheelchair, & dog friendly! Please keep dogs on a shortened leash for the safety of those around.
Friday, February 7, 2020
Whole Foods
3804 Oleander Dr.
Wilmington, NC 28403
4:30 PM – 6:00 PM – Packet Pickup
If you cannot make it, packets can also be picked up at the Race when Registration Opens. Please allow enough extra time before the race starts to pickup your packet.
Saturday, February 8, 2020
UNCW (Near Tennis Courts)
601 S College Rd.
Wilmington, NC 28403
7:00 AM  –  Registration Opens
7:45 AM  –  Registration Closes
8:00 AM  –  Fun Run Start
8:30 AM  –  5K Start
9:30 AM  –  Awards
Race Day Parking
Parking is available inside the UNCW campus at Lot K, which is next to the Tennis Courts where the race starts and finishes.
Want to Sponsor or Volunteer?
Questions About the Event?
5K Race
Through January 22  —  $35
January 23 through Race Day  —  $40
5K Race
(UNCW Faculty, Alumni, Teachers, Military, First Responders)
Through January 22  —  $30
January 23 through Race Day  —  $35

5K Race (Students)
Through Race Day  —  $20

Fun Run/Walk
Through Race Day  —  $20

Fun Run/Walk (Students & UNCW Faculty)
Through Race Day  —  $15
Teams of 5 or More: Please email thomas@its-go-time.com for a discount code
FAQ & GUIDELINES
Waiver: The Registration Agreement & Liability Waiver is linked to the Online Registration. This must be selected and approved during registration.
Packet Pick-Up: Family or Friends may pick-up your Race Packet at Packet Pick-Up.
On-Site Registration: Registration is available starting one hour prior to race start. It closes 20 minutes prior to start.
Timing: Jaguar Bib Chip Timing will be used to time this race
Weather: This race is rain or shine. It will be postponed, rescheduled or cancelled if a severe weather warning is in effect.
Refunds: There are no refunds, registration will be accepted as a donation.
Entries are not transferable to other races Timed by Go Time as each race is organized by a different group.
We must stick to this policy as race items have been purchased based on current registrations and it is not fair to choose who receives a refund and who does not.