When & Where
Saturday, November 9, 2019

Hotel Ballast
301 N Water St.
Wilmington, NC 28401
Distances
10K  –  TIMED
5K – TIMED
1 Mile  –  UNTIMED
Start Times
9:00 AM  –  5K & 10K Start
9:05 AM  –  1 Mile Start
2018 Run, Roll & Stroll Photos
2019 Run, Roll & Stroll Results

Purple Heart Homes Run, Roll & Stroll for Veterans consists of three races: a 1 Mile Fun Run, a 5K, and a 10K. The course takes you along the parade route of the Veterans Day Parade, which starts right after the race awards. Come on out for a beautiful run, roll or stroll through historic downtown Wilmington, and then catch a great parade – all proceeds go to Purple Heart Homes. You can help veterans, while helping yourself!
The Veteran's Day Parade starts at 11:00am. Then come join us at Waterline Brewing for a parade/race after party – more details to come soon!
About the Cause
Purple Heart Homes' goal is to help reintegrate veterans into the community, and to proudly acknowledge the sacrifice they have made on our country's behalf. Whether it is adapting an already owned home, building a home from the ground up, or adapting and modifying a foreclosed home, Purple Heart Homes is committed to guiding the veteran through the entire process. Their ultimate goal is to empower the veteran – giving him/her a full complement of skill sets that allow them to be a functioning member of their family, as well as a contributing member of the community. PHH serves all Veterans from the Korean War to Operation Iraqi freedom! Veterans who return and can't fit their wheelchair into their kitchen, or aging veterans that need help with old injuries, Purple Heart Homes is there to help them.

5K & 10K Awards
• Top 3 Overall, Male & Female
• Top 3 in Age Groups, Male & Female:
10 & Under, 11-14, 15-19, 20-24, 25-29,
30-34,  35-39, 40-44, 45-49, 50-54, 55-59, 60+
• Fastest GE Employee
• Fastest Veteran
• Fastest Wheelchair
• Fastest Stroller Runner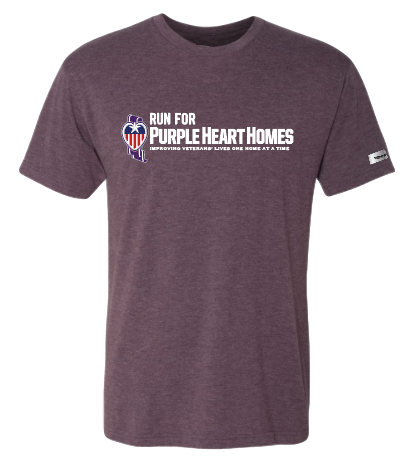 Race Swag
 Race Shirts will be guaranteed to participants who register by 11:59 PM on Tuesday, October 15, 2019. The shirts are available in Adult Unisex S-XL cut sizes, and are from Without Limits.
 Be sure to claim your shirt today by registering!

Runners will run the parade route of the 2nd annual Veteran's Day Parade. The course will take you on a tour of downtown Wilmington's beautiful historic buildings and along the scenic Cape Fear River waterfront.
This race is also stroller and wheelchair friendly! However, dogs are not allowed on this course so please leave them at home or with a non-running spectator. 
Friday, November 8, 2018
Omega Sports
3501 Oleander Dr.
Wilmington, NC 28403
4 PM – 6 PM – Packet Pickup
If you cannot make it, packets can also be picked up at the Race when Registration Opens. Please allow enough extra time before the race starts to pickup your packet.
Saturday, November 9, 2019
Hotel Ballast
301 Water St.
Wilmington, NC 28401
8:00 AM  –  Registration Opens
8:45 AM  –  Registration Closes
9:00 AM  –  5K & 10K Start
9:05 AM  –  1 Mile Start
9:50 AM  –  5K Awards
10:15 AM  –  10K Awards
11:00 AM  –  Parade Starts
Race Day Parking
Parking will only be available in the parking decks and on the downtown side streets. We are running the parade course so all of Front St. will be CLOSED for the run and the parade. DO NOT PARK ON FRONT ST OR YOU WILL BE TOWED BEFORE THE PARADE STARTS.
Want to Volunteer or Sponor?
Questions About the Event?
10K Race
Through August 25  —  $35
August 26 through November 3  —  $40
November 4 through Race Day  —  $45

5K Race
Through August 25  —  $25
August 26 through November 3  —  $30
November 4 through Race Day  —  $35

1 Mile Fun Run/Walk
Through August 25  —  $20
August 26 through Race Day  —  $25
FAQ & GUIDELINES
Waiver: The Registration Agreement & Liability Waiver is linked to the Online Registration. This must be selected and approved during registration.
Packet Pick-Up: Family or Friends may pick-up your Race Packet at Packet Pick-Up.
On-Site Registration: Registration is available starting one hour prior to race start. It closes 20 minutes prior to start.
Timing: Jaguar Bib Chip Timing will be used to time this race
Weather: This race is rain or shine. It will be postponed, rescheduled or cancelled if a severe weather warning is in effect.
Refunds:
There are no refunds, registration will be accepted as a donation.
Entries are not transferable to other races Timed by Go Time as each race is organized by a different group. We must stick to this policy as race items have been purchased based on current registrations and it is not fair to choose who receives a refund and who does not.