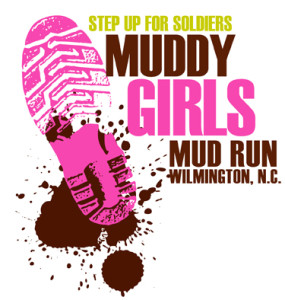 A GIRLS
ONLY

MUD RUN

Step Up for Soldiers thanks all participants, volunteers and sponsors for a great inaugural Muddy Girls Mud Run!

TYPE OF RACE:

All Female Mud Run!

DATE:
Saturday, October 18, 2014

LOCATION:
National Guard Armory
2412 Infantry Road
Wilmington, NC 28405

THE COURSE:
Don't just read about it!  Check out the fun and obstacles from past mud runs.

Photos

Run, jump, and crawl through obstacles and mud.  This is a great course for both the seasoned mud runner and the newbie.  Nestled in the heart of the National Guard Armory at the Wilmington International Airport, this course is used for the Combat Mud Run and has been used by the military for training.  Our volunteers include active duty military, veterans, and ROTC!

THE 5K COURSE:  The 5K course offers just enough of a challenge for the athletic, but is friendly for participants looking to take on a mud run as a new challenge or prepare for those mud runs that have fire and electricity (no shocking here!).  Does one of the obstacles appear intimidating?  Don't worry!  You can do 15 burpees instead of an obstacle.

THE MEATHEAD MILE COURSE: Needing more challenge?  The Meathead Mile course is the 5K with an extra mile of obstacles and running through rough terrain.

Here is what you can expect:  COURSE MAP

Trail Running
4', 6', and 8' Walls  (there are foot pegs for those who need them)
Mud Crawls
Mud Walk
Swamp Run
Tire Climb
Fallen Trees
Culvert Crawl
16 Foot Long Bungee Hall Way Obstacle
8 ft and 12 ft Reverse Climbing Wall
12 ft Four Station Rope Climb
Chin Up Station
Push Up Station
Monkey Bars

EVENT SCHEDULE:
7:30am: Preregistration & Day of Registration Opens
8am: First Wave Begins
11am: Awards
11am: Combat Mud Run begins. This for the men!

ENTRY FEES:
Online Registration Closes October 13

5K Distance
Now through September 30: $40
October 1 – October 13: $50
Day of Event: $65

5K & Meat Head Mile
Now through September 30: $50
October 1 – October 13: $60
Day of Event: $75

Military, Law Enforcement, & Firefighters receive a $10 discount.  Thank you for your service!
Disabled Veterans receive a 50% discount – Please email us for your discount before you sign up!


AWARDS:
Awards will be issued to the following:
Fastest Female Participant
Fastest Female Military/Law Enforcement/Firefighter
Fastest Female Team

FAQ & GUIDELINES:
The Waiver & Liability Form is attached to the Online Registration. This must be checked and approved to participate.
Team Captains will be responsible for each team member.
Participants must be at least 14-years-old day of the event to participate.
Military & Public Service Registration:  This includes Active Duty Military, Veterans, National Guard, Fire and Police
Online Registration closes October 13, 2014. On-Site Registration will be available starting at 7:30am day of the event at the race site.
Start Times are in Waves to avoid conjestion at obstacles.  Start Times will be posted 48 hours prior to event and emailed to participants.
I.D. required to pick-up race packet.
Race registrations are transferable to another participant. Copy of original participant's I.D. is required.
Meat Head Mile: This is a one mile extension of the normal 5K course for the serious challenger. The mile includes more obstacles.
Only those who complete the course receive the exclusive Combat Mud Run Dog Tag.
Not Allowed:  Coolers, Alcohol, Weapons.
Do Bring:  Towel for free portable shower, change of clothes, lawn chairs
ABOUT STEP UP FOR SOLDIERS
Step Up For Soldiers is an All-Volunteer group providing renovations, recreation, and recognition for recently disabled veterans.
Its Mission Statement: To provide disabled veterans who experienced loss of limb and mobility problems with the resources necessary to adjust in a post-war environment. As a result of the events and fundraisers, sponsored by Step Up For Soldiers, we strive to not only enhance their lives and those of their families but also help to restore their confidence and positive self image.
Click HERE to learn more on how you can help Step Up For Soldiers.