DECLARATION DASH 2011

Update: Sunday, July 3, 2011
With the music playing, money machine swirling, and kids dancing, nearly 300 people put on their running shoes for the annual Declaration Dash on Sunday, July 3rd, 2011 managed by the Landfall Foundation.
This race was full of fun and prizes, the top finishers of each age division were given the opportunity to climb into a money machine and grab as many one dollar bills as possible.  To add a unique twist to the Declaration Dash, participants were asked to "Declare" their finish time.  The closest finisher walked away with a pair of new Mizuno running shoes courtesy of TrySports. Josh Asselin of Wilmington declared 18:57 for the 5K, a PR, he crossed the finished line one second faster at 18:56.  For the 10K Declared Time contest, Jeff Denlinger of Pennsylvania was only 24 seconds off.
As for the races, the 5K was led by Laney High School Cross Country Coach Sam Bobbitt (16:25) , followed by Ashley High School Cross Country Coach Shawn McKee (16:33).  Right behind them was TrySports ambassador Clint Henry (16:43).
On the women's side in the 5K, Stacy Gaynor of Saratoga Springs, NY held a strong lead as the first overall female at 21:18.  Jennifer Peterken of Wilmington (22:01) and Lauren Corvino (22:47), visiting from Australia,  rounded out the top three.
In the 10K, Without Limits Running owner and hometown favorite Tom Clifford crossed the finished line in first place followed by Troy Mitchell of Florida and John Cherry of Swansboro, NC.  For the women's 10K, the top three finishers are Alice Kassens, Teresa Emison, and Sonya Williams.
Dozens of children and their parents anxiously took the start line for the children's 2K.  All children who participated were recognized with an award.
Proceeds from this event benefit the Landfall Foundation.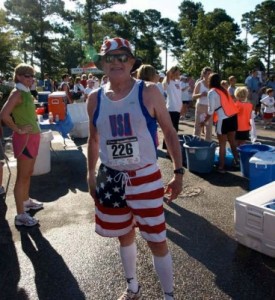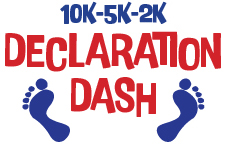 Go Time! is proud to partner with the Declaration Dash benefiting the Landfall Foundation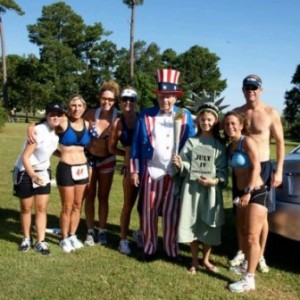 Race: Declaration Dash presented by the Landfall Foundation
Type of Race: 10K-5K-2K
Date: Sunday, July 3, 2011
Time: 8am
Where: Ashland Court, Landfall
Course Description: Flat & Fast through Landfall
Entry Fees:
Timed Runs:  $25 by June 21 – $30 starting June 22
Untimed Runs (2K only):  $15 by June 21 – $20 starting June 22
Pre-Registration Packet Pick-Up: Friday, July 1st at TrySports 4-7pm
Parking, Gate Access, Rules & Prizes: www.LandfallFoundation.org
REGISTRATION HAS CLOSED FOR 2011
Pre-Registration: ends July 1st
On-Site Registration: July 3rd 7:00 – 7:30 AM
*Participants who Register by June 21 receive a Run T-Shirt*
AWARDS & PRIZES
AWARDS
Awards will be presented to Top Male & Female Overall Finishers and Age Group Divisions
DECLARATION PRIZE
The first runners who finish closest to their Declared Time win a FREE pair of Mizuno Running Shoes from TrySports.  Declare your Time when registering for this race.  Overall winners DO NOT QUALIFY.
1776 PRIZE
Awarded to the 76th finisher of the 10K Race
235th ANNIVERSARY of the DECLARATION OF INDEPENDENCE PRIZE
Awarded to the 235th finisher of the 5K Race
MOST PATRIOTIC PRIZE
Awarded to the Most Patriotic Participant
Course Map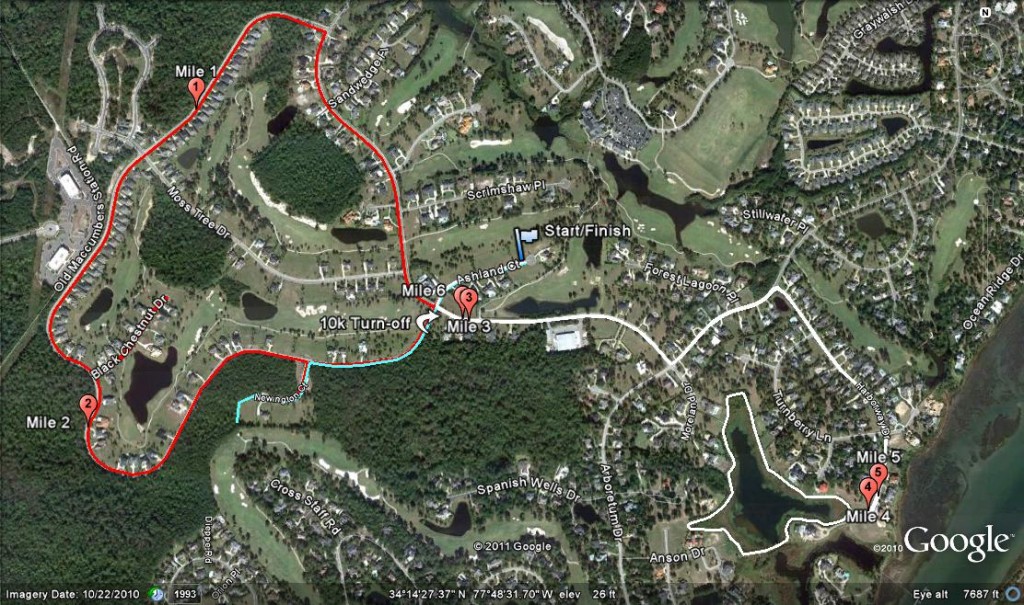 Red = 5k/10k
White = 10k
Blue = 2k
5k and 10k will turn right onto Deer Island-
Left onto S. Moorings
Right onto Black Chestnut
Left onto S. Moorings
Right onto Newington
Right onto S. Moorings
5k Straight across Deer Island down Ashland to FINISH
10k Right onto Deer island
Left on Arboretum
Right on Harborway
Enter Lake
Right on Lake Trail
Exit Lake
Straight on Harborway
Left on Arboretum
Right on Deer Island
Right on Ashland to Finish
2k Straight across Deer Island
Left Newington Ct.
Enter Trail
Turnaround
Exit Trail
Right on S. Moorings
Straight across Deer Island to Finish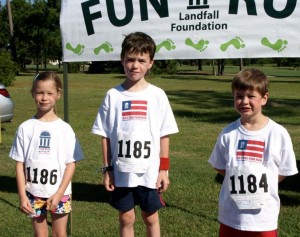 About the Landfall Foundation
The Landfall Foundation was formed to support Wilmington non-profit organizations.  It has allowed the Landfall community an opportunity to make a valuable contribution to our city by distributing grants to smaller organizations that are often under funded.  Although small, these local charities and causes meet broad and vital community needs.
Since its start in 1996, the foundation has raised and contributed over $2,000,000 to Wilmington non-profit organizations.  In 2010, $216,731 was distributed among 54 projects. In addition, special projects brought the total 2010 distribution to $240,000. Other 2010 recipients included Good Shepherd, Guardian Ad Litem, Lower Cape Fear Hospice, Mother Hubbard's Cupboard, Domestic Violence Shelter and Services, Habitat for Humanity, Bellamy Mansion Museum, Cape Fear Museum of History and Science, Cucalorus Outreach Program, Carolina Canines for Veterans, and the list goes on!